Government Assisted Packages
View the range of assistance offered for vitalCALL by the government
National Disability Insurance Scheme (NDIS)
The National Disability Insurance Scheme (NDIS) provides support to eligible people who live with intellectual, physical, sensory, cognitive, and psychosocial disabilities. They provide targeted support and better coordination and access to services.
VitalCALL is currently registered with the NDIS. Our provider registration number is 4050001004 and our products fall under Assistive Technology PERS Care & Safety funding.
VitalCALL does not accept "agent" managed accounts.
To find out more about NDIS funding eligibility, please contact NDIS on 1800 800 110, or visit the NDIS website www.ndis.gov.au.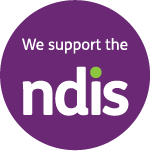 Other types of funding
Certain states and territories also have schemes that may enable you to receive VitalCALL at a discounted price or free of charge.
Those may include corporate groups such as ADSSI, Transition Care, Legacy and more than 100 other aged care and corporate groups for elderly people.
For more information contact:
Aged Care Information line on 1800 200 422 or click here.
COMMONWEALTH HOME SUPPORT PROGRAMME (CHSP)
What is CHSP?
The Commonwealth Home Support Programme (CHSP) is an Australian Government initiative and is operated by the Department of Health to assist the senior population to live independently and safely in their own home.
The CHSP can assist with following:
help people live as independently as possible
focus on working with them, rather than doing things for them
give a small amount of help to many people
The Australian government partners with around 1,400 CHSP providers, most of which are not-for-profit organisations. The CHSP may be able to provide funding for your personal emergency device. Elderly Australians who wish to be part of the CHSP program may receive complete funding by the government or pay a contribution fee that's partially subsidised by the government to access CHSP's social services.
HOW DOES CHSP FUNDING WORK?
CHSP funding is available across Australia and aims to help people remain independent in their own home. The CHSP develop a support plan suited to an individual's needs. This may include a personal alarm.
Funding amount will vary depending on the client's specific circumstances. The participant may still be required to pay a contribution towards the cost of their personal alarm. CHSP can advise you for your situation.
GOODS, Equipment & ASSISTIVE TECHNOLOGY (GEAT)
Goods, Equipment and Assistive Technology (GEAT) refers to items that help older Australians to manage a range of health conditions. Funding of up to $2,500 for items such as personal alarms may be available through CHSP. More information is available for GEAT, or see health.gov.au website.
WHO IS ELIGIBLE FOR CHSP FUNDING?
CHSP is aimed at frail, older Australians who need support to live at home independently.
There are basic requirements for CHSP eligibility:
aged 65 years or over (50 or over for Aboriginal or Torres Strait Islander peoples) and have functional limitations and need assistance
prematurely aged (50 years or older; 45 years or older for Aboriginal and Torres Strait Islander peoples) and are on a low income, homeless, or at risk of being homeless because of housing stress or not having secure accommodation
The CHSP can also support carers by providing planned respite services for CHSP recipients.
HOW TO ACCESS FUNDING
To receive funding from CHSP, you must be a client. Visit My Aged Care to find a list of providers. Your CHSP provider will assist to help you find care plan for your needs.
You may need to contribute a small portion of the cost of the government funded personal alarm. Speak with CHSP regarding this contribution.
Carer Gateway
Carer Gateway is a useful program which aims to make your life easier by providing free services and support for carers.
Carer Gateway gives you access to an Australia-wide network of Carer Gateway service providers. To get connected and find local services and support to help you visit their website.
Funding for vitalCALL
Department of Veterans' Affairs (DVA)
Did you know that the Department of Veterans' Affairs (DVA) will fund VitalCALL to eligible Gold and White Card holders? If your family member has a clinically assessed need, they could be eligible to receive VitalCALL at no charge to them to remain safe and independent in their own home.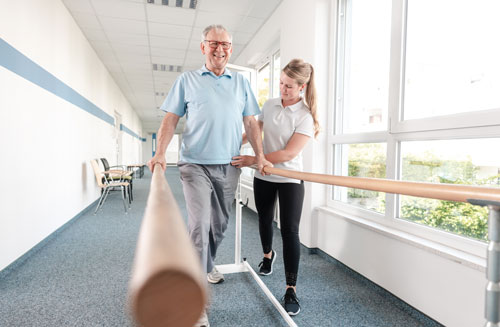 How does DVA funding for emergency alarms work?
VitalCALL has been providing emergency alert devices to the Department of Veterans' Affairs for over 17 years. We're part of the Rehabilitation Appliances Program (RAP) that provides funding for personal emergency alarms.
To receive DVA funding, you will first need:
A referral from a Health Care Professional
A D9199 form completed during an in-home assessment by an Occupational Therapist
Once VitalCALL receives the order, we'll contact your patient to arrange a suitable time for one of our representatives to visit their home and install their VitalCALL
What should I do next?
If your family member is DVA eligible, you should first speak to their doctor or Healthcare Professional about being referred to VitalCALL.
To find out more about DVA funding eligibility, you can contact the Department of Veterans' Affairs on 133 254, or visit the DVA website www.dva.gov.au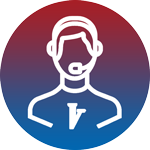 Need help? Give us a call!
We can help You Choose the Right

or