VitalCALL has been operating for over 40 years and has been providing Australian seniors with emergency alarm systems and personal alarm pendants. We are fully dedicated to ensuring all seniors are able to live independent and protected. Our state of the art emergency alarm systems are used by seniors all across Australian in order to monitor their health and ensure they are never alone if an emergency arises.
What's so good about vitalcall?
Many seniors will agree to wear personal alarm pendants because they are discreet and relatively tiny, which means they are easy to disguise and hide when seniors are out of their homes.
Personal emergency response alarm pendants also ensure that seniors can live independently on their own, with help being just a button away.
This allows their family members to:
feel better about their independent life,
while providing them with peace of mind.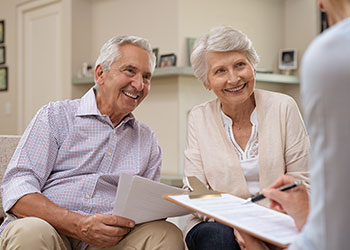 Personal emergency response alert pendants are much less expensive than paying for a nursing home or assisted care option. Generally, elderly personal emergency response system alarms come in two forms: alert pendants and alert bracelets. The advantage of elderly alarm devices is that seniors can still go out as they please without compromising their independence.
How Vitalcall works
As mentioned, all an individual has to do is touch the button on the device for help.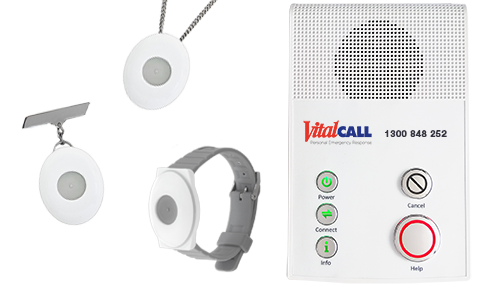 A base unit is kept within the home.
When the button on the device is pressed, the signal is sent to the base unit.
An operator is contacted, and the individual can speak with the operator through the base unit.
There is no need to pick up a phone, which makes it convenient for those who are in a situation where they cannot move.
Remember, the response centre is available 24 hours each day, every day of the week.
VitalCALL has a staff of highly skilled operators whose job it is to determine the correct response for the call. In many cases, the response is a phone call to a relative to stop by and remedy the problem. The operators are highly trained and can detect when a serious emergency has occurred. They are able to deliver the appropriate responses in those cases as well.
Why choose VitalCALL?
VitalCALL is a trusted expert in the emergency alert device industry. With a history that has helped over 200,000 Australians with a variety of issues and emergencies, VitalCALL is the company to turn to when it is time to have an alert system placed within a home.
Investing in an emergency alert pendant or other emergency alert systems for seniors, could be the lifesaving, affordable solution to ensuring your family member is well cared for while their independence remains intact.
The VitalCALL line of emergency devices is extremely popular due to their affordability, efficiency, and the company's overall experience in the senior emergency alert franchise.
There are a number of different emergency alarm systems available from VitalCALL including options for fall detection as well as a variety of accessories. Those interested in a personal emergency response system for themselves, or a loved one can visit the families page, to learn more about what we offer.
Questions can be submitted via the online form. People can also call 1300 848 252 and speak to a company representative. Having helped over 200,000 Australians, a VitalCALL emergency alert pendant is definitely the right choice.